Full sun
Generally means 8 hours or more of direct sun per day. Most south-facing locations have full sun unless blocked by nearby buildings or trees, while west-facing locations receive morning shade followed by the hot afternoon sun. We recommend trying full sun-loving plants here first as they do better in hot conditions.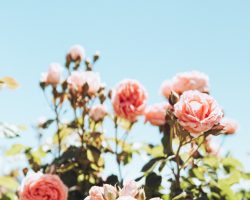 Part shade
A part-shade location can mean a direct morning sun and afternoon shade (like the east side of a building). It can also mean the whole day sees a dappled or fairly bright shade, such as underneath a deciduous tree with average to medium-sized leaves.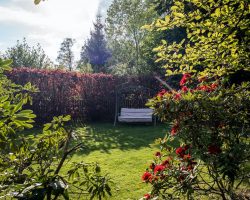 Full shade
A full shade location sees no sun. North-facing locations receive full shade, even though a bit of morning or afternoon sun may sneak through. Full shade also describes areas under large-leaved trees and most evergreens.
Annuals for shade to part shade (full shade – morning sun)
Begonia tuberous
Begonia fibrous
Begonia Reiger
Browalia
Caladium
Calceolaria
Cineraria
Coleus
Cuphea
Cyclamen
Fuchsia
Hypoestes
Impatiens
Ivy
Lobelia
Mimulus
Pansies
Torenia
Vinca
Wandering Jew
Annuals for part shade to sun (keep moist in full sun)
Begonia fibrous 
Calendula
Cuphea
Hypoestes
Impatiens New Guinea 
Ivy
Ivy Geranium
Lamiastrum
Lotus Vine 
Mimulus
Nemesia
Nemophila
Nepeta 
Nicotiana
Rhodochiton
Perennials for shade to part shade (full shade – morning sun)
Aconitum 
Ajuga
Anenome x hybrida
Arabis procurens
Arum
Aruncus
Asarum
Astilbe
Astrantia major
Brunnera
Caltha
Cimicifuga
Corydalis blue
Corydalis lutea
Digitalis
Doronicum
Dodecatheon
Epimedium
Fern sp.
Fuchsia hardy
Galium odoratum
Gaultheria procumbens
Gaultheria salal 
Helleborus sp.
Heuchera
Hosta sp.
Hypericum
Kirengeshoma koreana
Mimulus
Meconopsis sp.
Mondo Grass
Pachysandra
Polemonium
Polygonatum
Primula
Pulmonaria
Thalictrum
Tomiea menziesii
Tricyrtis sp.
Trollius
Vinca
Viola
Perennials for part shade to sun (keep moist in full sun)
Acanthus mollis 
Ajuga
Alchemilla
Anemone
Arisaema sp.
Aquilegia sp.
Bergenia
Cimicifuga
Comfrey
Dicentra 
Digitalis
Dodecatheon
Doronicum
Dracunculus vulgaris
Epimedium
Euphorbia sp.
Galium sp.
Geum
Helleborus 
Heuchera
Kirengeshoma koreana
Ligularia
Mondo Grass
Oxalis
Persicaria
Polemonium
Rodgersia
Sanguisorba albiflora
Tradescantia 
Tricyrtis sp.
Trillium
Trollius
Vinca
Vines for shade to part shade (full shade – morning sun)
Akebia quinata 
Boston ivy
Climbing Hydrangea
English Ivy 
English Ivy Variegated
Lonicera x tellmanniana
Schizophragma 
Hydrangeoides
Virginia creeper
Clematis for shade to part shade (full shade – morning sun)
Blue Bird
Countess of Lovelace
Duchess of Edinburgh
Guersney Cream 
Henryii 
Jackmanii
Joan Pickton
Miss Bateman
Mrs. Cholmondely 
Nelly Moser
Pamela Jackson
Ramona
Trees and shrubs for shade to part shade (full shade – morning sun)
Acer circinatum 
Acer palmatum
Ardisia japonica
Aralia elata
Camellia
Daphne ordata
Elaeaganus 
Euonymus fortunei
Euonymus japonica
Fatsia japonica
Fothergilla
Hydrangea
Ilex aquifolium 
Kalmia
Ligustrum
Mahonia sp.
Pieris japonica
Prunus laurocerasus
Rhododnedron sp. 
Sarcococca
Skimmia
Taxus
Trees and shrubs for part shade to sun (keep moist in full sun)
Acer circinatum 
Acer palmatum
Acer platanoides
Andromeda polifolia
Azalea
Berberis darwinii
Buxus sempervirens
Chaenomeles
Chamaecyparis obtusa
Chamaecyparis pisifera 
Clethra ainfolia
Cornus Alba
Corylopsis
Cotoneaster
Cryptomeria
Daphne Ordata
Enkianthus
Euonymus fortunii
Euonymus japonica 
Fothergilla
Hydrangea
Ilex var
Ligustrum
Nandina domestica
Osmanthus
Pernettya
Pieris japonica
Prunus laurocerasus 
Rhododnedron
Ribes
Sarcococca
Symphoricarpos
Taxus
Vaccinium
Tsuga
Viburnum davidii
Grasses for part shade to full sun 
Anemanthele lessoniana
Calamagrostis avalanche 
Calamagrostis overdam
Carex varieties (except Bronze)
Chasmanthium
Deschampsia
Elymus magellanicus
Festuca galuca 'boulder blue'
Festuca idahoensis 'siskiyou blue'
Helictotrichin sempervirens
Juncus
Leymus
Liriope
Miscanthus purpurascens
Miscanthus 'little kitten'
Molinia
Ophiopogon
Panicum 'dallas blues'
Panicum 'northwind' 
Panicum 'thundercloud'
Pennisetum 'burgundy bunny'
Pennisetum 'desert plains'
Pennisetum 'little bunny'
Pennisetum 'little honey
Pennisetum 'moudry'
Pennisetum 'pennstripe
Grasses for shade to part shade
Carex 'Gold Fountains' 
Chasmanthium
Hakonechloa
Millet
Ophiopogon